Technological process for OCTG line pipes
What is pipeline process technology?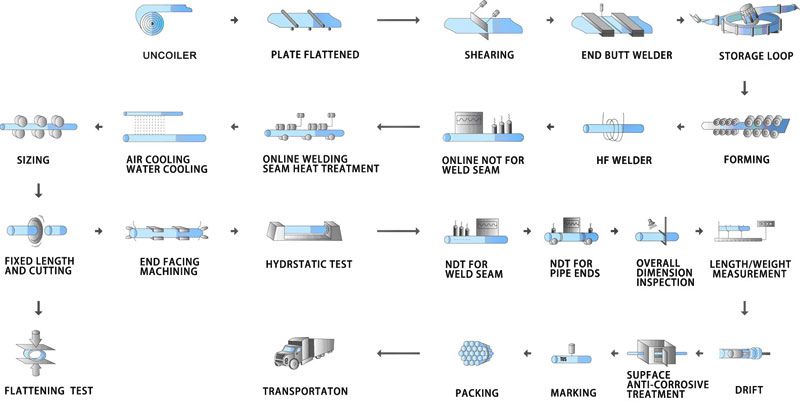 The manufacturing process of the line pipe is similar to the tubing and casing. What's more, there are several procedures that are of great importance. Because the line pipe is divided into welded pipe and seamless pipe, so there is a slight difference in manufacturing process between welded pipe and seamless pipe. For example, Seamless steel tube is once-shaping in the rolling, while welding steel pipe need to weld after roll, which is generally divided spiral welding and straight welding.
Productive process of linepipe
A . Seamless Pipes
Ingot heating
Perforation
Rolling and sizing
Cooling
Straightener
NDT, UT
End cutting
Coupling thread (permium thread available)
Hydrostatic test, x-ray test.
Painting and thread protecting
Packing
B. Welding Pipes
Open
Cutting
Welding
Shaping
Polishing
CorrectingHeat treatment
Eddy Current Test, Cutting
HT
Pickling and inspection
Painting, packing