OCTG casing and tubing
OCTG tubing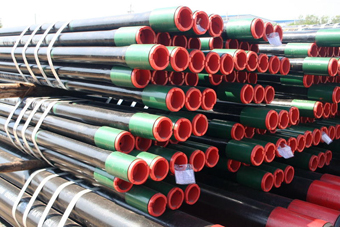 OCTG tubing is a pipeline which transports crude oil and nature gas from hydrocarbon reservoir to the surface after the completion of drilling. It's one of the main products of OCTG and it can withstand the pressure generated in the process of mining.
Oil tubing pipe is divided into non-upset(NU) oil pipe , external upset(EU) oil pipe and integral joint oil pipe. Non-upset oil pipe is the pipe end directly carried out thread turning which does not thickened and band coupling.
External upset oil pipe refers to the end of tube carry out thicken. The integral joint oil pipe is one end of which is passed through the internal thickened, the other end passes through the external thickened.
Specifications of OCTG tubing
Dimension range (OD inch): 1-1/2----4-1/2
Dimension range (OD mm): 26.67----114.3
Type of upset: NUE, EUE, Plain end
Standard: API SPEC 5CT
Main Steel Grade: H40, J55, N80, N80Q, L80, L80-1, L80-9Cr, L80-13Cr, P110 etc
Type of Tubing: Non-upset tubing (NU), External-upset tubing (EUE), Integrated Joint (IJ)
Tubing length range
| | Length of Grade R1 | Length of Grade R2 | Length of Grade R3 |
| --- | --- | --- | --- |
| Tubing length range | 6.10-7.32 | 8.53-9.75 | 11.58-12.80 |
| Maximum variation in length range of 100% vehicle capacity | 0.61 | 0.61 | 0.61 |
Learn more about OCTG tubing specifications
OCTG casing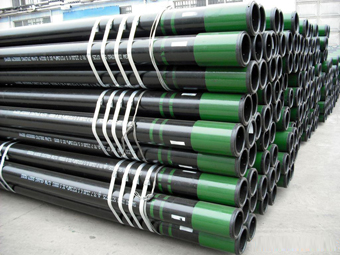 Casing is a steel tube supporting oil and gas well. According to different drilling depth and geological conditions, the casing layer is different. Oil casing should be used with cement, to fixed.
Casing is different from the tubing and drill pipe and it belongs to one time consuming material which can not be used repeatedly. Therefore, the consumption of the casing pipe accounted for more than 70% of all.
According to the use of the casing, it can be divided into: tube, surface casing, technical casing and oil layer casing.
Tube: Mainly used in ocean drilling or the desert, to separate water and sand and ensure the smooth drilling. The main specifications of this casing are: ∮762mm(30in) ×25.4mm, ∮762mm(30in) ×19.06mm.
Surface casing: It is mainly used for the first time to drill, drill the soft ground to the bedrock. In order to ensure this part of the formation does not collapse, oil surface casing should be adopt. The main specifications of this casing are: 508mm(20in), 406.4mm(16in), 339.73mm(13-3/8in), 273.05mm(10-3/4in), 244.48mm(9-5/8in). Depth of the casing pipe depends on the depth of the soft ground, generally 80~1500m. Its external pressure and internal pressure are not large, generally use K55 steel or N80 steel grade.
Technical casing: It used in the process of complex drilling. When encountered the collapse layer, the oil layer, gas layer, the layer of the water layer, the leakage layer and the salt gypsum layer, the technical casing is needed to be sealed, otherwise the drilling can not be carried out. Some well formation is deep and complex, and the depth has several kilometers. This deep well needs several layers of casing, which mechanical properties and sealing performance requirements are very high. The main specifications of the technical casing are: 339.73mm(13-3/8in), 273.05mm(10-3/4in), 244.48mm(9-5/8in), 219.08mm(8-5/8in), 193.68mm(7- 5/8in) , 177.8mm(7in).
Oil layer casing: When drilling to the objective layer, casing need to sealed the oil and gas and the internal of casing is tubing. The main specifications of the oil layer casing are: 177.8mm(7in), 168.28mm(6-5/8in), 139.7mm(5-1/2in), 127mm(5in), 114.3mm(4-1/2in)
Specifications of oil well casing
Dimension range(OD inch): 4-1/2---13-3/8
Dimension range(OD mm): 114.3---762  
Standard: API SPEC 5CT
Main Steel Grade: H40, J55, K55, N80, N80Q, L80, T95, P110 etc
Type of Casing: Plain, BTC, STC, LTC, Other Premium Thread
Casing length range
Length of Grade R1
Length of Grade R2
Length of Grade R3
Tubing length range
4.88~7.62
7.62~10.36
10.36~14.63
≥95% vehicle capacity
Length variation
≤1.83
≤1.52
≤1.83
Minimum length
5.49
8.53
10.97
Learn more about Casing specifications